Products from Trodat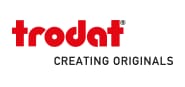 For over 100 years Trodat has been a leader in the stamp industry, providing the highest quality stamp products to users all over the world, and helping them put their best foot forward one perfect impression at a time.  Based in Austria, Trodat has been at the forefront of stamp production and innovation creating manufacturing processes that not only give users the best products, but also products that are good for the environment.
The Trodat stamps are the best-selling self-inking stamps in the US, with products designed for nearly every application, whether it be at the office, at home, or on the go. 
The Trodat Professional 4.0, the first stainless steel premium office stamp in the world, is perfect for the user that wants a durable stamp built to last a lifetime, but also one that looks great on their desk.  The Professional 4.0 is made with up to 75% recycled plastic, so it's not only easy on the eyes, but also easy on the environment.
The Trodat Printy and the Ideal Line of self-inkers feature a vast array of sizes, and are perfect for everything from business stamps, to address stamps, to monograms. In addition nearly every Printy and Ideal stamp is climate neutral, and made with the lowest possible CO2 emissions, so it's a stamp you can feel good about purchasing.
The Mobile Printy is perfect for stamp users on the go, with its simple one-handed operation and compact design, it can fit in the pocket or purse.  It's ready when you need it!
Be sure to check out our entire line of Trodat products here at www.getstamps.com!