Products from Xstamper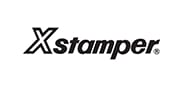 The Xstamper product was created in the 1960s and has become a trusted stamp all around the world.  Known for its high quality production process, the Xstamper is designed to give users thousands of impressions before re-inking.
The Xstamper Message stamps come in a wide variety of phrases, designed to meet any business application.
Order your Xstamper Message stamp at www.getstamps.com.